Top tips to weathering the storm
Act now
1. Secure your Financial Position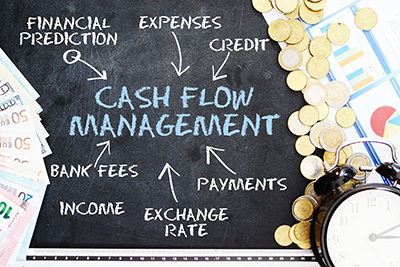 The Critical Steps to Take
Cashflow: You should do two cashflow forecasts covering the best case and worst-case scenarios. Use the worst case for your planning, but also focus on any revenue opportunities in the best-case scenario.
Payments: Stop any payments that are not absolutely business critical, including even the smallest direct debits and standing orders.
VAT & Income Tax: You can choose to defer VAT payments between 20 March and 30 June and also to defer your second income tax payment on account until January 2021. Help is also available for those who are struggling to pay their tax bill – for more information, click here.
Finance: If you can demonstrate that your business is viable in the long run, you may well be able to open (or increase) a bank overdraft. Alternatively you could take out an 80% government-backed Coronavirus Business Interruption Loan with no interest due for the first 12 months. For more information click here.
Rates: There are a number of business rates relief schemes for particular sectors such as retail, hospitality, leisure and nurseries as well as those already eligible for small business rate relief and rural rate relief. For more information click here.
Negotiate: Some suppliers will be prepared to agree delayed payment terms. Conversely, you may be asked to extend credit to your own customers. Work hard on collecting any payments owed to you as part of the critical steps to take.
2. Secure your Resources
The Critical Steps to Take
Love your teams: Right now, your team are probably working remotely, may feel disjointed, worried, anxious. Remember, without the right people, your company will never reach its potential and won't be able to hit the peaks you would like it to reach. Events like COVID19 allow you to demonstrate how important your team members are so take the critical steps to reassure them.
Your company culture is the spirit of your organisation, it's quirks and personality that make it special and unique. Use your culture and the raft of digital tools in the market to ensure that the spirit and personality of your organisation thrives.
Furloughing Employees
Under the Coronavirus Job Retention Scheme, all UK employers will be able to access support to continue paying part of their employees' salary for those employees that would otherwise have been laid off during this crisis.
HMRC will reimburse 80% of furloughed workers wage costs, up to a cap of £2,500 per month. Furlough any employees who cannot be paid from reliable sales income. For more information click here. 
Changes to Sick Pay
To make sure that employees and self-employed people can take the necessary time off to stay at home, changes have been made to Statutory Sick Pay and how Universal Credit can support self-employed claimants.
The changes mean that anyone with the virus who can no longer work, are eligible for Statutory Sick Pay from day one, rather than the fourth day of their illness. For more information click here.
Upskill your staff: You could train your existing staff on additional skills, which could make them more productive and efficient. Think about focusing them on other areas of the business when their department is down. For instance, your sales team could perhaps also help out the marketing team. 
Embrace digital: We may be working from home for months to come, so get set up properly, using collaboration tools you already have and any suitable new apps. Look at everything from Google docs, Hangouts, Zoom, and Skype for communication as they can make your working life significantly easier.
Go digital
Consider which digital tools are right for you to maximise exposure and send you on your way to success. 
Consider a virtual webinar or conference 
Can you launch a series of videos talking to your products and services? 
How can your social media tools step up to drive further awareness giving more people are staring at their screens than ever before? 
Given the lockdown across the board you should see some savings across your travel and client entertainment accounts. Plough these funds into this digital tooling to help both your company culture, marketing and governance.
Transparent and timely communications are necessary to reshape your business and to secure ongoing support from stakeholders.
Customers

Keep customers apprised of any impacts to product or service delivery. If contractual obligations cannot be met it is important to maintain communication to revisit timelines 

Employees

Try to find the balance between caution and maintaining a business-as-usual mindset

Suppliers

Maintain regular contact with suppliers regarding their capability to deliver goods and services during the COVID-19 crisis and their recovery plans

You can consider alternative supply chain options in a timely manner

Creditors and investors 

Review terms and conditions on loan contracts to identify sensitive debts and avoid vital technical debt breaches. 

Reviews enable proactive communications with creditors regarding any necessary amendments to existing terms or refinancing arrangements. 
Find out the next steps: planning for clarity and focus here
Find out how to mange your company culture here